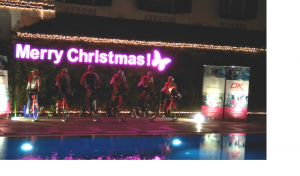 Sofitel Legend Metropole Hanoi kicked off the holiday season with an official invitation-only Christmas Lights Ceremony on December 1. For the first time, British cycling legend David Lloyd joined forces with six foreign ambassadors to take part in a bicycle 'race' including the UK, Italian and Swiss ambassador to Vietnam as well as two ambassadors from the European Union Delegation to Vietnam to generate enough electricity to turn on the hotel's yuletide sign and lights.
The bicycle 'race' is part of a joint effort to raise awareness and funds for Newborns Vietnam, a UK registered charity dedicated to reducing neonatal mortality in Southeast Asia.
A standee of DK Engineering was put in the ceremony as an acknowledgment for DK great support to Newborns Vietnam.